Bunte Truppe (or Colourful Troop, as their name would have it) unite a few different generations of German musical experimentation. Ruth-Maria Adam and Ronnie Oliveras have both been affiliated with neo psych folk collective Datashock; Ignaz Schick is a turntablist and saxophonist with a background in free jazz; and percussionist Limpe Fuchs has been a totemic figure since the late 1960s when she and her husband, Paul Fuchs, emerged on the fringes of the West German underground rock and jazz scenes as improvising duo Anima. The four of them have been performing together as Bunte Truppe since 2017, combining percussion, wind and string instruments plus an arsenal of electronic doo-dads. On their debut album the group present half a dozen patchwork collages that feel like missives from an imagined post-industrial future when air travel and the internal combustion engine are faded memories, power comes from wheezing solar powered generators, all the parks and open spaces have been rewilded and armed brigands haunt the hills just beyond the city walls. The raw crackle of electricity is a constant presence, with radio signal whine, seething amp hum and the crunch and hiss of a stuck vinyl loop sketching a tactile backdrop. Fuchs adds metallic clang, clatter and thud from her self-made tuned instruments – queen of the scrapyard beating a leisurely tattoo. Various primitive musical gestures surface: wild violin stridulation; snare drum rumble; sudden bass clarinet shriek; Moogish wibble; an inept bugle snuffling like a truffle hound; and an eruption of absentminded operatics. There's a workshop vibe about the whole thing, fostering an environment where virtuosity is rejected in favour of spontaneous sonic exploration – as pioneered on antecedents such as Sun Ra's Strange Strings or Alan Sondheim's Ritual-All-7-70. In this way Bunte Truppe generate some beguiling, fantastical soundworlds: a domed cyber-garden populated by tiny android hummingbirds, electric cicadas and the whir and rattle of holographic frogs; moonlit magic in a sacred circle of dead refrigerators; windowless railway carriages and flatbed trucks pulled by mountainous shire horses with village pennants flapping in the warm afternoon breeze. Perhaps this is what folk music will sound like in a hundred years' time.
Daniel Spicer (The Wire, July 2019, Issue 425, p. 48)


Kunst am Morgen
in der Ausstellung über die Klangkünstlerin
Limpe Fuchs

Bekannt ist Limpe Fuchs vor allem als Musikerin und als Klangkünstlerin von internationalem Renommee. Im Rahmen der aktuellen ARTS- Akzente Ausstellung werden nun erstmalig auch ihre Aquarelle und Buntpapiercollagen gezeigt. Judith Bader, die Leiterin der Städtischen Galerie, hat die Ausstellung über Limpe Fuchs zusammengestellt und gibt bei einem Ausstellungsrundgang, der unter dem Motto "Kunst am Morgen" am Dienstag, 26. September um 11 Uhr in der Alten Wache im Traunsteiner Rathaus stattfindet, Einblick in ihre faszinierenden, bildnerischen Arbeiten.
Limpe Fuchs ist seit 1969 künstlerisch tätig und gilt heute in der experimentellen Musik- und Performanceszene weltweit als vielgeachtete Größe. Filmaufnahmen und Konzertmitschnitte von 1971 bis heute, sowie verschiedene Pressedokumente und weiterführende Informationen zum soziokulturellen Hintergrund vermitteln einen guten lebendigen Eindruck von einer weiblichen Künstlerexistenz, deren radikale Konsequenz beeindruckt.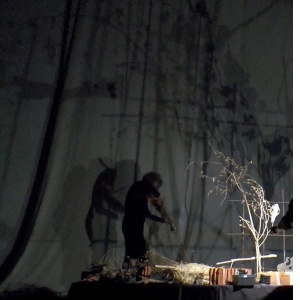 Shadows rush through the Sounding Universe
Gisela Oberbeck and Limpe Fuchs in Kunstraum Klosterkirche, Traunstein ....they tell picture stories of plants, animals and ghost creatures, the eyes of the audience follow intensely in the darkened room...moved are these huge shadow worlds by the light of several subtle controlled flashlights of the shadow picture artist Gisela Oberbeck .....once passes the slim figure of the artist with her viola the huge undulating shrubs of the shadows, mostly she is following the theatre with great sensibility from behind the audience, where the other instruments are standing......after the show many visitors are studying the shadow- and sound installation and relize with astonishment the big crystals, which, lying on the floor, renew the movement of the bronze weights hanging on the high pendulum string instruments.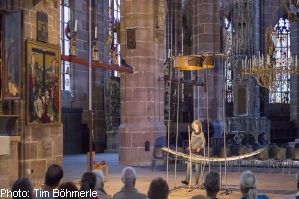 International Organ Week Nuremberg invited to a long night of music
Saturday June 27 th, 2015
Between "Cello to go" and thunder­storm music in Saint Lorenz:... you could experience a perfect finale of the evening when taking your way to Saint Lorenz, passing the main market, where the whine party was just going on.
In the church sound artist Limpe Fuchs and the organist Matthias Ank impressed with the program: "sound. silence. improvisation." The improvisations of Fuchs were alternated with straighter, melodious compositions from the organ. The all round artist produced impressions on two pendulum strings, which she first stroke with her viola bow and then made them ringing with various sorts of mallets together with lithophones, voice and soft tunes from the organ. Together with strokes of lightning from outside a total work of art was created.
Nürnberger Zeitung 29. Juni 2015
Inside Limpe Fuchs' atelier – impressions by photographer Franz Baumann Traunstein

Synesthetiques Meetings
Lithphonia, Limpe Fuchs
films by Thomas Steiner and Siegfried A. Fruehauf
Today's program presents Limpe Fuchs in her total flexibility and enormous movement mobility, in her possibility to resonate with the stones, also a quality of the stones.
"Sounding Stones" sounds nearly like an Oxymoron, because when we think of music it is opposite to the weight and laziness of stones. But these ringing stones stand for the possibility that music is of overcoming the worst and hardest obstacles. The sound of these stones is warm and light, even reminding of the sound of water. Lithophones are – newest scientific research – the oldest instruments of mankind.
Intricate and subtle scenario with "plastique phantastique" – Limpe Fuchs, bTina Raithel, Ulrike Stoltz
Repeatedly an amazing scenario evolved from light, sound and movement that breathed unexpected life into dummy everyday objects.
Concert: Coincidentia Oppositorum

Die Klangkünstlerin Limpe Fuchs trifft mit ihren außergewöhnlichen Instrumenten auf Mehrkanal-Live-Elektronik. Als Verbindungselement zwischen diesen Klangwelten fungiert die menschliche Stimme. Eine kompositorisch-zeitliche Übereinkunft von Limpe Fuchs, Michael Fischer, Caroline Profanter, Daniel Lercher, Richard Bruzek, Stefan Fraunberger und Vinzenz Schwab, sowie vielen Stimmen des Brunnenchors.
Limpe Fuchs: Akustisches Klangmaterial/Holz, Bronze, Stein
Michael Fischer mit dem Brunnenchor: Conducted instant composition
Caroline Profanter, Daniel Lercher, Richard Bruzek, Stefan Fraunberger, Vinzenz Schwab: Elektroakustik
Ivrea rassegna d'avantguardia "Musiche Possibili", gli incredibili strumenti dell'anarchica Limpe Fuchs e trombonista Sebi Tramontana dell'Italian Instabile Orchestra
Limpe Fuchs in and around Barcelona, June 11–14 2010
Following the invitation and together with video artist Igor Daniel (alquimiadelsol.net and myspace.com/alquimiadelsol) she played 4 concerts in clubs and on the beach with very good resonance from the audience – there will be more!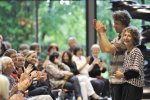 Klangart Wuppertal, May 30 2010

Babel and Fuchs: Music on Granite Stones
Sculpture Park of the Tony Cragg Foundation in Wuppertal: An extraordinary concert with experimental music drew 100 listeners [...] Especially the experience of highest soundart [...] Limpe Fuchs, the well known artist in experimental music scene and the percussionist Zoro Babel took their 100 listeners on an extraordinary way through the sound of Bronze from the ballast strings, wood horns and granite stones.

Trio Traum

Traummusik im "Werkstattkonzert" für fantasiebegabte Musikliebhaber. Unter anderem gab es einen "Alptraum". Das Rollgeräusch eines mit einer Eisenkette verbundenen großen Zahnrades, das Limpe Fuchs auf dem Pflaster des Gewölbes mit dem Fuß vor sich her schob, dröhnte, unterstützt vom bedrohlichen "Holzhorn Reden". Die beiden anderen Musiker pfiffen schrille Weisen dazu auf Melodika und Daumenflöte

(Trostberger Tagblatt, 29.1.2010)
Zum Isentaler Pfundsarschgaudi Festival lud die Rocklegende der 80er zum Frauentag am Freitag, 17.Juli die Oberton Sängerin und Dichterin Ulrike Stoltz und die junge Didgeridoo Spielerin Astrid Mehltau ein

Ein Spielwerk für die Traumzeit

Die Klanginstallationen von Limpe Fuchs und die Objekte von Linde Mötz - Grübl sowie eine staunenswerte Material- und Requisitenfülle verwandelten den Traunsteiner Kunstraum Klosterkirche in das magische Unterholz eines Klanghaines. Limpe Fuchs als Leiterin des "Spielwerkes" war Stimmführerin bei der differenzierten, inventionsreichen Klang- und Geräuschcollagen, die nicht bloss lautmalerische Illuminationen anzielten, sondern einen klaren musikästhetischen Mehrwert einbrachten.

After her wonderful show in Hasselt last year we are delighted to invite Limpe Fuchs once more, this time in Brussels...

Limpe Fuchs is an improvisor/ composer of acoustic and visual happenings. Born in 1941, studying piano, violin and percussion in the early sixties. Started "Anima Sound", a collective name for twenty years of .sound research" with her partner, sculptor Paul Fuchs. Also known as 'Anima Musica', they epitomized the ingenious marginal freak scene of the sixties and seventies and are often cited as a major influence on Krautrock.

Anima's anarchic recordings were radical, atonal improvisations with unconventional instruments, unrestrained creativity, and utterly unstructured performances - primal, experimental free-jazz with a touch of prog-rock. In an unlikely array, instruments like drums, bass and cornet were combined with Paul Fuchs' own homemade inventions: the Fuchshorn, Fuchszither, and Fuchsbass; Limpe Fuchs wordless vocal yelps and screams; and audio-visual machines: light-ray oscillographs and movement holograms. Fringe community outsiders, the Fuchs took freak-out avant-garde to a new level.

By 1987' Anima had become Limpe Fuchs' solo project. She preserves the .no formalisms, no explanations" methodology in her solo work, and continues exploring the outer realms with her characteristic delight in invention. Using piano, violin, Fuchs-instruments and natural objects like stones and wood, and her singularly freeform, flighty vocals, she released four solo albums, Via in 1987, Muusiccia, in 1993, and Nur Mar Mus in 1999 and recently Vogel Musik and Pianobody. She says of her recent work " The visual aspect is of the same importance as the acoustic... Life and music alive..."

Paradeis Productions)

Seit Jahrzehnten gehört Limpe Fuchs zu den phantasievollsten Klangkünstlerinnen der internationalen experimentellen Musikszene. Vielfach ist sie mit selbstgebauten Instrumenten von skulpturaler Kraft hervorgetreten, hat in grenzüberschreitenden Performances mit Musikern wie Friedrich Gulda, Albert Mangelsdorff, Sebi Tramontana zusammengearbeitet. Inspiriert von Soundscape Künstlern wie Murray Schaefer und nicht zuletzt auch von John Cage, verfügt die professionelle Perkussionistin Limpe Fuchs über eine selten wache Sensibilität für prozessuale und überraschende Interaktionen und spontane Klanggeräuschentfaltungen.

(Helmut Rohm, Sendung Pianobody am 10. Mai 2007, Studio für Musik B4 Klassik)
[...] Im zweiten Teil wechselten Töne mit Stille, wuchsen die Klänge an, flüsterte Limpe Fuchs in behutsamer Lautmalerei, die sie in einem Jauchzer enden ließ. Schwere Kugeln rollten durch den Raum, Holzstäbe oder Kugeln in Glasschalen geworfen, Schläge mit Klöppeln, mit Stäben, auf Glas auf Stein reihten sich zu immer neuen Lauten [...]

(Margrit Jacobi, OVB Rosenheim vom 3. Juli 2007)
Klang und Konzept hervorragend realisiert in der Wuppertaler Bandfabrik

(Frank Becker, Musenblätter Wuppertal)
Symphonische Klangperformance. Konzert in der Klosterkirche mit Limpe Fuchs und der Fotokünstlerin Inge Vogt begeisterte.

(Traunsteiner Tagblatt, May 6, 2006)

Eingeladen hatten Column One auch die Komponistin Limpe Fuchs — eine Münchner Kapazität seit den späten Sechzigern in Sachen freie Improvisation und Instrumentenbau. Wie mit ihrem früheren Projekt "Anima Musica" demonstrierte sie in der Maria am Ostbahnhof noch einmal, wie sich über die Konventionen von Instrument und Stimmung hinwegsetzen lässt. Unter dem Motto "Listen to the Tone disappearing" erkundete sie spielerisch die Formbarkeit des Klangs.

(TaZ Berlin, 10.2.06 zum Konzert im Berliner Club Transmediale am 8.2.06; Foto von Marco Microbi)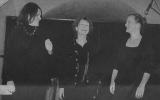 Eine Sternstunde: Schuberts Winterreise im 17. Werkstattkonzert — Musikalische Begegnung von Vergangenheit und Jetztzeit

(Trostberger Tagblatt, 22.11.2005)

Eine musikalische Wunderwelt, die alles von einem abverlangt. die Formation TRIOfon präsentierte sich im Taufkirchner Wasserschloss

(Süddeutsche Zeitung 1./2./3.10.05)

[...] Limpe Fuchs Musik entzieht sich jeder gängigen Beschreibung. Es gibt keine "Werke". Keine Formalismen, keine Erklärungen. Was es gibt ist ein Eintauchen in fremde und doch vertraute Klangwelten, die sich einer verbalen Beschreibung entziehen. Doch sie setzen sich fest in den Gehörgängen, in den Nervenbahnen, im Gemüt, lösen Sensationen im Sinne von Empfindungen aus . ..wenn sie zärtlich mit dem Geigenbogen über die straff gespannte Stahlsaite streicht, wenn die Resonanztrommeln in ihrer luftigen Höhe infolge dieser Berührung leise erzittern, dann ist alles Klang.

(Dachauer SZ 11.05.2005 - Akustische Sensationen Experimentalmusik von Limpe Fuchs)
Schatten tanzen im Klang – Mobile:... dreiteilig ist die Performance, die leise, sinnliche Kunst der Schattenspielerinnen wird von kleinen Klangkonzerten von Limpe Fuchs auf Metalltrommeln und singenden Bronzestäben unterbrochen. Am Schluss der experimentellen Inszenierung sind die Performerinnen selbst zu Mobile-Figuren geworden, balancieren auf höchst poetische Weise Spannungen zwischen langen Eisenstäben und den Körpern aus

(Ruhr Nachrichten 9.10.2000)

"Klänge und Geräusche – Hören im Alltag und die neue Musik", nachdem Limpe Fuchs ihre Instrumente vorgestellt hatte: "Ich bin auf der Suche nach dem Klang, die Limpe Fuchs hat ihn schon gefunden!

(Helmut Lachenmann 1997 bei der Tagung in der evangelischen Akademie Tutzing)
Hans Michael Rehberg und Anja Lechner

(Hamburger Morgenpost 26.02.1993: Aktuelles Theater der sanften Verrücktheit Performancekünstlerin Limpe Fuchs mit Trakls "Offenbarung und Untergang" im Literaturhaus)



[...] der ganze Ballast von einigen Jahrtausenden Musikgeschichte, alle üblichen ästhetisch, formalen Kategorien und jegliches, kulinarisch genießerische Musikhören wird dabei zurückgelassen ..

(Heinz Zettel, Ingolstadt 1992)
Neun junge Musiker halten eine ganze Maschinenhalle, die der Zeche "Zollern II" in Bövinghausen "besetzt" – und ein engagiertes Publikum ausser Atem. "Spontan Klang Komposition" hieß das Projekt, für das Limpe Fuchs für die Kirchentags "Freiräume" ein zehnköpfiges Ensemble, die Gruppe "Spot Stop 2" um sich scharte [...]

(Rainer Wanzelius, Dortmund 1991)

"Bruchstücke für Ilona" Musiktheater von Anima und Achim Freyer, Paul und Limpe Fuchs, Zoro Babel (Ballastsaiten und andere Instrumenten): Ein Gang durch ungewöhnliche Klangwelten, erzeugt u.a. auf Saiten, die mit Gewichten an verstärkenden Membranen aufgehängt sind. Klangskulpturen, Raumklänge, Fremdes – beeindruckend.

(Phonomagazin, Neue Musikzeitung August/September 1987)

Mit selbstgebauten Klangplastiken waren sie am Freitag abend zu Gast im Evangelisch-kirchlichen Aufbaugymnasium Mössingen: Limpe und Paul Fuchs wollten mit ihren avantgardischen Klängen den Zuhörer »dort abholen, wo er musikalisch herkommt und ihn ein Stück auf den eigenen Weg nehmen«

(Mössingen, 1.06.87: Anima Musica – Musik zwischen Himmel und Erde)
[...] blind an der Rampe entlang tastet sich Limpe Fuchs in "Ballast eine Liebe". Symbolträchtig und typisch für den Charakter dieser Performance ist die Nähe zur Kreissäge.

(Abendzeitung vom 15. Juli 1986 zum Münchner Klaviersommer)

[...] What the Fuchs family does is perform mesmerizing music under the name Anima, and they have been doing it across Europe for the past fifteen years to a combination of critical acclaim and head scratching.

Anima uses a variety of homemade instruments combined with standard instruments to create a musical world of their own in which any method used to create sound is valid — a kind of intrafamily anarchy. [...]

(Interview Anima Music, Chicago 1983)